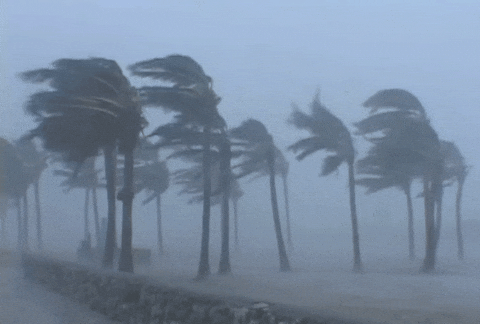 What my Minnesotan eyes see during Florida's

daily afternoon rainstorm
Considering that hurricane season is well under way in the southeast already and my hurricane go-bag is still only halfway packed (I'm from Minnesota originally and a blizzard kit doesn't translate well to Florida), I thought I would interrupt our regularly scheduled tech tips to look at some interesting apps for disaster preparedness, for you or your library!
Of course, if you want to use these apps in the midst of a natural disaster like a hurricane, you are going to need some way to keep your phone or tablet charged in the middle of a power outage, so feel free to take a moment and shop for external batteries and emergency generators before continuing.
You were told that the library had an emergency plan for the collections. But when emergency came, you found that the emergency plan was not actually as useful as you'd always assumed it was. If that happens, you can breathe easy because the experts created an emergency plan for you and you can tap into it through your smartphone.
NLM's mobile app collection covers an interesting mixture of topics, but this one is unique in that it does not cover a health or information need.
This app is purely about protecting the physical materials in your library from water. Recovery procedures are listed for different kinds of media, including: paper, photographs, microfiche, audiovisual materials and painting.
And in case you would prefer the non-mobile version, there's a full site with more information.
The National Park Service's National Center for Preservation Technology and Training (or NPS's NCPTT for short) features tips on stabilizing and retrieving 9 different types of collections: photographs, books, documents, paintings, electronic records, textiles, furniture, ceramics/stone/metal, organic materials, and natural history specimens.
I have their First Aid and Pet First Aid ones for hiking with the dog and my injury-prone friends, but the Red Cross also has apps tailored to your neighborhood's natural disasters, from earthquakes to hurricanes. I may not have my go-bag packed all the way, but I do have this app on my phone and plan on keeping it there until November 30th.
I may have put this one on the list primarily because I like the phrase "Digital Go-Bag", but if you like to be prepared for all the things all the time, this probably has something for you.
I've got the app for the National Hurricane Center, but there are also apps for psychological health and reuniting with families after an emergency. There is even a section on "Disasters in Libraries".
Other Emergencies You Weren't Even Worried About Yet:
The Mobile Tech Team at my library loves this app, but I can't personally say I've experienced it. Apparently, this 3D game allows you to test your knowledge of what to do in case of an emergency landing. It will either imbue you with more confidence when you fly (because you know what to do) or, if you are me, make you so nervous that you hyperventilate during take-off. So test your skills at your own risk!
Is your phone already equipped as a digital go-bag? Have any tips you would like to share about mobile apps and natural disasters? Feel free to let us know in the comments below!
Ariel is a brand new Health Sciences Liaison Librarian at the University of Florida who likes to experiment with apps. When she's not worrying about the weather daily (why does it rain so much!), she's packing her go-bag and planning her escape route from her home in the middle of a swamp. Fortunately, the natural disaster that scares her most---fire tornadoes---is unlikely to affect her because, again, house in the middle of the very soggy swamp.